I've only been thrifting once so far this week. Its been a hectic few weeks. Between my now workaholic status, and Brads unpredictable, inconsistent work schedule, it's been hard to find the time. I did however purchase my first item of clothing. It was an interesting experience. It took a lot of time. But I saved money. So I guess I can't really complain. I didn't get a large volume of items, but I got some stuff Im happy about, and its useful! I'll showcase this weeks items, as well as a few from thrifts past (but stuff I've never shown you here). Enjoy!
So here we go:
As a child I had a friend whos family had bowls very similar to these. I have fond memories of eating Presidents Choice White Chedder Mac and Cheese out of them in front of the TV. I got this little set of four for 3.99 minus 30%, because there was a managers special on housewares. They're so freakin pretty.
Vintage Tupperware - literally tupperware brand. The larger items are vintage Thermos's. LOVE. I never check the "plastics" isle, because its usualy dollar store CRAP. Not this time. Im going to keep my eye out from now on. Not to mention the tupperware was 3 for .99 cents. (Is there not a cents symbol of the keyboard? Am I just noticing this now?)
My first thrifted clothing purchase. A pair of jeans, for work no less. The other pair that I used to wear EVERYDAY had huge holes in the knees. Hey what can I say? Im crawling on the floor with kids ALL DAY. They were 6.99, they're Bluenotes Brand, so they probably would of retailed for about 25 or 30 bux, not bad, but hey I didnt want to spend that much for jeans that in a few months time will look as bad as my old ones.
Umm I kind of love her. A lot. Im (mildly) obsessed with Wrkinles dogs - not the actual dogs, just the ones made by Ganz. I always wanted one as a kid, but sadly never recieved one. I have three now, all thrifted. I have a big one (with original hang tags!!!!) that I got last year in Toronto at a goodwill for $2. As well as a sitting one that I got the same day at the big one at a salvation army for $1.49. This pretty lady (who is wearing a superhero outfit!) was 1.99, shes small, and has a hole in the back of her head for your finger to go.
A little tiny Pyrex bowl (this piture makes her look huge). Im keeping her, shes cute and small. I think she'd look awful yummy with strawberries in her. Mmmmm. She was $1.99.
Im all set for my next potluck. Haha. Ive never, ever participated in a potluck. But Im sure these will come in handy one day. The one on the left is Rubbermaid, the one on the right is Tupperware. Im pretty sure the Tupperware one used to have a handle that attached, but it was nowhere to be found. Oh well.
My Grandmother on my Fathers side adored Peter Rabbit. When I was small she gave me a stuffed Peter, but unfortunatly hes long gone now. When she passed away eleven years ago I got to take her Peter, the exact same one she'd given me. Whenever I see anything related to Beatrix Potter I think of her. When I saw a baggie filled with these (numbers 1 through 8) for $1.99 I had to have them. I had several as a child, as well as dishware, all gifted to me from her. One day I will put these in a nursery.
This little bit of happiness I found in a gameboard box after I bought it (thrifted obviously). Right away I recognized it, but Google had to help me figure out what it was actually called. They were made by Galoob in 1989 and were called "So Small Babies" there were animal ones like this little guy, and babies. As a young child I had a yellow and blue dog one of these. MIP they go for a lot of money. Id never sell this fella though, hes just too cute!
Hope you enjoyed checking out my thrifted goodness!
Thanks for stopping by!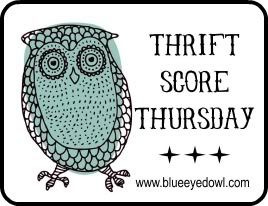 Cap Creations